Welcome to Earlston
Clearly, with the current Coronavirus situation there are limitations on just about everything, but in more normal times everything you see on here would apply. Most businesses/facilities listed on the Services page and all those on the Shopping page have links to their social media where they will detail their current status, and you can get an overview from our Facebook feed below on this page. In the meantime, please stay safe.
We, the 1700 or so residents, who love this beautiful Borders village with its terrific community spirit, facilities and its general all round greatness, welcome you to our website. OTT? We don't think so, and after you've had a look around we're sure you'll agree. Lovely location and getting to and from Edinburgh is no problem by car, bus or the scenic Borders Railway. And whether you like to roam the gorgeous forests and countryside, stroll by the river (or have a swim), climb the Black Hill, meet with like-minded folk in the many social clubs, fish for salmon, grayling, sea and brown trout, watch or play rugby, football, golf and bowls, eat out or just chill and chat in a cosy pub with a glass of something nice, Earlston is the place. We hope the info contained here will bring you to the same conclusion.
Hot News From Social Feeds
A Magnet for VIPs?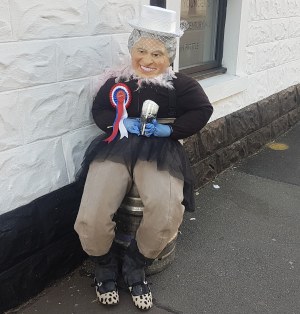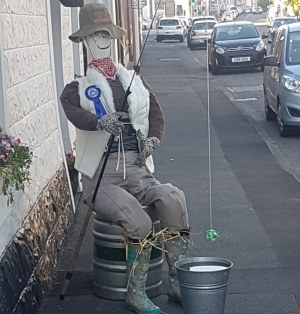 Her Maj drops into the Black Bull for a few bevvies while Phil does a spot of salmon fishing on their way to Balmoral. Or could they be examples of the themed scarecrows to be found all over Earlston in Civic Week? Tricky.

Forthcoming Events in Earlston
In the current crisis all events, club meetings etc have been cancelled. As soon as some semblance of normality returns the calendar will once again fill up.


Where is Earlston?
Earlston's on the A68 which runs from Darlington in County Durham to Scotland's capital, Edinburgh, through beautiful countryside, over rivers Tees, Wear and Tyne, up through the high moors of Northumbria, the Kielder Forest, over the Carter Bar into Scotland and on through the lovely, unspoilt Borders. We're about 30 miles South of Edinburgh, 1 mile North of the River Tweed, into which our River Leader flows. Check out the views below to get an idea of how nice it is and how lucky we are to live here.